22.08.2018
NOVEMBER TOUR
We promised you news, now we shall deliver, in Finnish from the link: To the Baltic Sea, and beyond! After a successful Finnish tour CRIMSON DAY, the metal quintet from Tampere, are teaming up with HERALD, an Estonian metal giant! The two bands hit the road together in November 2018 with The Tunnel Vision Tour which takes them on both sides of the Baltic Sea, from Tampere to Tartu! Crimson Day hits the stages of Estonia to spread their gospel of metal. The bands new album At The Mountains Of Madness, praised by critics and audiences alike, took the band all over Finland the past spring. Now it's time to take on foreign audiences! During the tour the band will play songs from all their records: from the one which started it all, Crimson Day EP to their latest studio album. Herald, established in 2000, is a living legend in Estonian metal circles. The band holds a strong and loyal fan base in their home country with their three studio albums and dozens of live shows. Their latest album, Masin (2015), gained major success and was rewarded with the Best Metal Album-award by the Estonian music awards, as well as the "Single track of the year" -award from Linnaleh-magazine for their single "Kone". Herald sings in Estonian, and is guaranteed to bring some exotic flair to their already top notch heavy metal. The Tunnel Vision Tour brings Herald to Finland for the first time, so be sure to check them out! Heavy metal wakes the Beast!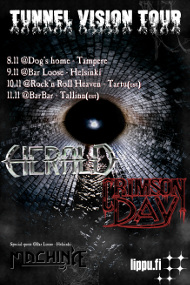 The Tunnel Vision Tour dates:
-November 8th: Dog's Home, Tampere, Finland, tickets 6 eur.
-November 9th: Bar Loose, Helsinki, Finland with special guest Machiane, tickets TBA.
-November 10th: Rock N' Roll Heaven, Tartu, Estonia, tickets TBA.
-November 11th: BarBar, Tallinn, Estonia, tickets TBA.
Inquiries, interview requests, more info:
Lassi/crimsonday@crimsonday.com