04.056.2021
Crimson Day announces new drummer!
Juhani Ikonen has been announced to be the new official member of the band. The talented drummer joined Crimson Day first as a session drummer to record the drums for the upcoming third album. After the rehearsals and recordings went so well, the band welcomed Juhani as a new official member.
"I was up for new winds to blow in my musical career and Crimson Day appeared just in the spot. I got invited to play the drums for the upcoming album. Crimson Day turned out to be very nice and professional group of cool guys and our sessions went so well that I ended up being assigned to the band's official roster." says Juhani Ikonen.
Juhani has been playing in multiple bands before. The bands vocalist Milka and the new drummer have also been playing together several years ago."It's awesome to get to play with Juhani again, he was certainly the best choice for Crimson Day". The recordings of the third album are currently ongoing, with the drums already recorded. The band is super excited to get back on stage soon with some new songs and a new drummer!
20.05.2020
The New Music is on the way
Crimson Day has finished recording two new singles with the new and vibrant line-up. The first single will be released soon with an official music video that was filmed in mid-May in western Finland. During the video filming weekend the band produced the most furious music video Crimson Day has ever made.
The band is super excited to share the new song and the soon-to-be-ready music video with its fans this summer! Follow us on social media for more news and clips behind the scenes of the music video production.
05.02.2020
The New Era of Crimson Day
At the turn of the new decade, Crimson Day has some exciting news to announce! We are presenting a new line-up by welcoming our new guitarist Janne Rantanen and vocalist Milka Uusitalo to the Crimson Day family.
Janne has a long history of playing the guitar and he has been playing together with bassist Jesse in a group called "Varjoaine". Milka has been known before as the lead vocalist of the French Iron Maiden tribute "Lyon Maiden" as well as the lead singer of Finnish hard rock band "Nuclear Nightshift".
We are thrilled about the new era of the band, and some new Crimson Day material will be released before the summer. Two singles are ready to be recorded in the upcoming weeks and the band is planning to release the new songs with official music videos. Afterwards the band is planning to release the new album. We're also aiming to perform on stages in Finland in the summer of 2020.
We are looking forward to share the new music and conquer the stages with the fresh line-up. Horns up and stay tuned!
11.03.2019
So Much News!
We are very excited to announce Crimson Day has signed a booking agreement with a prominent German booking agent REDLIONMUSIC! We are very much looking forward to working with Redlion to bring Crimson Day to venues across Europe, Scandinavia and the UK in the future. Be sure to keep an eye on our social media to learn about our future tours and shows all around Europe!
Second of all: We are now in the pre-production phase of our next release. Currently Crimson Day is doing demos and still writing new material. We are working with Hiili Hiilesmaa, a legendary music producer, to bring forth the best material to our listeners. After pre-production and demoing we will start the production of our next full album, which we are hoping to release either later this year or early 2020, provided we come to an agreement with a label. Stay tuned for news about our future releases!
And lastly: our next tour, Baltic Madness Tour, takes place March 28th to March 31st. The tour brings Crimson Day to Latvia and Lithuania for the first time, where we'll play shows at Jelgava, Alytus, Kaunas and Riga. Look up the event nearest to you and join us!
22.08.2018
NOVEMBER TOUR
We promised you news, now we shall deliver, in Finnish from the link: To the Baltic Sea, and beyond! After a successful Finnish tour CRIMSON DAY, the metal quintet from Tampere, are teaming up with HERALD, an Estonian metal giant! The two bands hit the road together in November 2018 with The Tunnel Vision Tour which takes them on both sides of the Baltic Sea, from Tampere to Tartu! Crimson Day hits the stages of Estonia to spread their gospel of metal. The bands new album At The Mountains Of Madness, praised by critics and audiences alike, took the band all over Finland the past spring. Now it's time to take on foreign audiences! During the tour the band will play songs from all their records: from the one which started it all, Crimson Day EP to their latest studio album. Herald, established in 2000, is a living legend in Estonian metal circles. The band holds a strong and loyal fan base in their home country with their three studio albums and dozens of live shows. Their latest album, Masin (2015), gained major success and was rewarded with the Best Metal Album-award by the Estonian music awards, as well as the "Single track of the year" -award from Linnaleh-magazine for their single "Kone". Herald sings in Estonian, and is guaranteed to bring some exotic flair to their already top notch heavy metal. The Tunnel Vision Tour brings Herald to Finland for the first time, so be sure to check them out! Heavy metal wakes the Beast!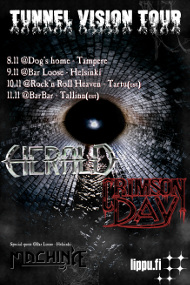 The Tunnel Vision Tour dates:
-November 8th: Dog's Home, Tampere, Finland, tickets 6 eur.
-November 9th: Bar Loose, Helsinki, Finland with special guest Machiane, tickets TBA.
-November 10th: Rock N' Roll Heaven, Tartu, Estonia, tickets TBA.
-November 11th: BarBar, Tallinn, Estonia, tickets TBA.
Inquiries, interview requests, more info:
Lassi Landström/crimsonday@crimsonday.com
10.05.2018
CRIMSON DAY LOOKING FOR A BOOKING AGENT AND OTHER STUFF
AT THE MOUNTAINS OF MADNESS has been out for a couple of months now! If you haven't already gotten your hands on the album, do it now! Also to help us out, go ahead and follow us on Instagram and Facebook (@crimson.day.band) and in Spotify.
The spring tour, nicknamed "At the Stages of Madness" is now finished! We had a great time and visited so many awesome places, met so many incredible people and drank so many beers! Thank you all who supported us by coming to our shows and buying our merchandise. We are now taking the summer off and returning to the stages in August. During the summer we hope to write a lot of great new material, start planning our next moves (European tour maybe?), and look for a label and a producer for the next album. The wheel keeps on turning…
To the point: We are currently looking for a booking agent to help us on our future tours and to take us to the next level. The person we are looking for is professional and motivated, and shows genuine interest to Crimson Day. Our goal is to go bigger, better and wider. In addition to Finnish venues, we want to expand our shows abroad, so the person we're looking for has experience in booking shows in Europe as well.
Crimson Day has been an active live band for its entire existence. In the last year we've achieved many milestones, such as our first foreign show in Berlin, and a full Finnish tour this winter/spring. Since our formation in 2013 we've played over 60 shows, half of those during the last two years. Until now we've booked our own shows with relatively good success, but to sell even more shows in different venues we need a person with the knowledge, time, resources and networks to make it happen. We strive to progress and growth as a band, and getting a professional booking agent to cooperate with us is a natural step in moving forward.
If interested, please contact us via Facebook or e-mail: crimsonday@crimsonday.com. Also, if you know someone who might be interested, please let them know.
STAY HEAVY!
With best regards, Crimson Day
19.01.2018
NEW ALBUM 'AT THE MOUNTAINS OF MADNESS' OUT NOW!
Crimson Day is proud to present their new studio album At the Mountains of Madness, out now! The sophomore album of the finnish heavy metalists is available on digital services such as Spotify and iTunes, as well as on CD. You can order the CD at Record Shop X, CDON, Swamp Music, or ask at your local record store!
The band will celebrate their new album by playing the whole extravaganza live at Jack the Rooster, Tampere, Finland on 19.1.2018. Following the release, Crimson Day will begin their Finnish tour, playing shows from Rovaniemi to Helsinki and between. Be sure to check out upcoming live dates to find the venue closest to you! For more information, review and interview requests and booking, please contact: crimsonday@crimsonday.com Stay heavy and see you soon!
STAY HEAVY!
With best regards, Crimson Day
05.12.2017
Have I got news for you!
Crimson Days highly anticipated sophomore album At The Mountains Of Madness will be released on January 19th, 2018. The band will celebrate the upcoming metal event with a epic release party in Jack The Rooster, Tampere, Finland. Crimson Day will play their new album in its entirety for the first time! Our good friends from All Rise are joining the party and warming the stage.
Be sure to check our new promo pictures and artwork from our website, Instagram or Facebook. We've still got one gig to do this year, Varjobaari, Tampere 16.12, and then we'll have a short break before the album comes out. Next spring we'll be doing gigs all over so stay tuned for more dates!
STAY HEAVY!
With best regards, Crimson Day
15.03.2017
CRIMSON DAY ANNOUNCES NEW RECORD, AT THE MOUNTAINS OF MADNESS, AND HEADS TO GERMANY!
We are proud to announce that Crimson Day is heading to studio this May to record an album full of new material. The album will carry the name of the acclaimed novella by H.P Lovecraft, "At the Mountains of Madness", and will contain 10-11 songs including 8-9 brand new songs as well as the two singles released last autumn. The album will be recorded with our old friend Jussi Kulomaa. We're expecting a summer release for the new record, and will be promoting the album for the rest of the year. Another bit of exciting news: as a part of promotion of the new album, Crimson Day is heading to play BLACKLAND BAR, BERLIN on 14.7.2017. With us to Berlin will travel another finnish metal act, All Rise. The third wheel of the metallic mayhem is Ankh Amun, a Berlin based heavy metal act. A new album and a live show in Berlin! This year will be a benchmark in Crimson Days career, and we owe it all to our fans and supporters! For further information about the new album and Berlin show, contact: crimsonday@crimsonday.com STAY METAL! Here's the functioning link to a live performance of At the Mountains of Madness, title song. New Live
With best regards, Crimson Day
11.11.2016
Greetings, fellow Crimsonites!
After the warm and spectacular reception of Beasts of Prey, Crimson Day is once again ready to release brand new material! This brand new song is called My Last Rites. Born from the pencil of Ari, this new baby presents a heavier edge of Crimson Day, with a more thrashy vibe and heavier riffs than you might be used to. The video to this masterpiece was directed and co-written by a visual media visionary (and a good friend) Jyri Hiltunen, and filmed at Aris hometown Juupajoki. We also had the pleasure of "murdering" a talented young actor Heli Rantala with a dramatic effect. Go and check the video out, you can find the video right here on our website or in YouTube. The song will be available on Spotify and other streaming platforms shortly. About our future plans: For the rest of the year Crimson Day will be staying out of stages and focusing on writing new material. The spring of 2017 will be filled with as much gigs as we can handle, so be sure to stay tuned for our latest news right here on this website or from our Facebook-page. The next chance to see Crimson Day live will be at Bar15, Seinäjoki on 20.1.2017. News about our upcoming releases can be expected sometime during early 2017. So, listen to the song, see the video, stay tuned and most importantly: stay heavy.
With best regards, Crimson Day
08.08.2016 - CRIMSON DAY RELEASING NEW SINGLE AND MUSIC VIDEO
After a few months of active rehearsing, playing shows and writing, Crimson Day finally has something to show to our fans! During spring 2016, in midst of playing gigs, we hooked up with our old friend and producer Jussi Kulomaa to record two new songs, of which we now present the first one: Beasts of Prey. We are proud to present this new material with an awesome music video! So strap your leather pants on, take off your earplugs and put on your reading glasses, because this new video is now available in Youtube! The song is now also available in other digital platforms such as Spotify, Deezer today 8.8.2016. This marks a new leaf on Crimson Days career, and we will be doing gigs diligently during the following autumn, winter and spring. We are also looking for new partners on the music industry and venues to further promote our new material. Stay tuned for news of our incoming gigs and the second single we'll be throwing your way this autumn! Follow us on Facebook and Instagram also and be in the loop of everything Crimson Day: Facebook Instagram:@crimson.day.band
Sincerely,
Crimson Day
15.02.2016 NEW YEAR, NEW SOUND!
Crimson Days journey with Valtteri has come to its end. It was one hell of ride, and so much we achieved together. We wish him all the best and fun with his new projects..
..and so let us introduce our new lead singer Lassi Landström
"" I'm very excited to be part of Crimson Day and to sing metal with these fantastic people. In my opinion we have hit it off amazingly and I'm looking forward to doing gigs and new material with the guys in the future. I hope our fans and listeners welcome me like the band has welcomed me and I guarantee you will not be disappointed on what we have in store for you. I hope to see hordes of you on our shows! Greetings,Lassi.""
17.10.2015 ORDER OF THE SHADOWS OUT NOW!
Order of the Shadows has now been published! Physical copies can be bought from Record Shop X and Swamp Music (naturally, also directly from the band members):
Order of the Shadows in Record Shop X
Order of the Shadows in Swamp Music
Digital album is available in Bandcamp (in a couple of weeks also in Spotify, iTunes and a few other digital stores):
Order of the Shadows in Bandcamp
Go and get your copies!
26.09.2015 BLESSED BE THY HATE MUSIC VIDEO
Next teaser from our upcoming album is now online! See music video of the song Blessed Be Thy Hate in YouTube:
Blessed Be Thy Hate Music Video
06.09.2015 ORDER OF THE SHADOWS OUT OCTOBER 16TH
Our debut album entitled Order of the Shadows is now ready to be released.
The album will be released as a CD by Iron Shield Records on October 16th. Tracklisting is as follows:
1. Enter The Order
2. Stormborn
3. And Then Came Death
4. Sandstalker
5. Order Of The Shadows
6. Lies About Paradise
7. Far From Serenity
8. Burning Redemption
9. Fatal Destination
10. Blessed Be Thy Hate
11. The Gathering
The album is already available for digital pre-order in Bandcamp where also two songs, And Then Came Death and Lies About Paradise, can be heard:
Order of the Shadows in Bandcamp
26.04.2015 SANDSTALKER MUSIC VIDEO & RAGING CANNON
A music video of the song Sandstalker is now available in Youtube. The video can be seen here:
Our upcoming album called Order Of The Shadows has now been recorded and mixing is done as we speak.
We have also started co-operation with Raging Cannon booking and production company:
11.10.2014 SANDSTALKER
A song from our upcoming album is now online. Sandstalker can be heard in our SoundCloud page:
24.06.2014 A NEW ALBUM NEXT YEAR
We will start working on a full lenght album next year. We have several new songs already written which we have played live during gigs this year. The details of the album will be decided by the end of this year and recording will be started soon after that. Live versions of some of the new tunes can be heard in the following (also available in the Media section):
20.04.2014 KUKKONA TUNKIOLLA SEMIFINALS!
We made it to semifinals of Kukkona Tunkiolla competition. We will play May 7th in Jack The Rooster (see more details in Live section). Our gig in Eura will be rearranged due to the competition. A new date will be announced shortly.
15.02.2014 KUKKONA TUNKIOLLA 2014 & EP REVIEWS
Crimson Day will participate Kukkona Tunkiolla band competition. Our performance will be April 16th in Jack The Rooster.
Our EP has been reviewed in Soundi and KaaosZine. Check the following links (the reviews are in Finnish):
Crimson Day EP review in Soundi
Crimson Day EP review in KaaosZine
21.01.2014 A CHANGE IN LINEUP
Jyri has decided to quit Crimson Day. He will be replaced by Jesse Liukkonen. Jesse will play his first gig with Crimson Day in Hyvinkää's Bar Zoom February 1st. Crimson Day crew wishes Jyri all the best for his future endeavors!
30.12.2013 LIVE DATES 2014
Four live dates have been confirmed for year 2014. We will have three gigs in Tampere (Varjobaari, Ravintola TipTop and Pub A'la Pispala) and one in Hyvinkää (Bar Zoom).
12.12.2013 CRIMSON DAY EP IN SPOTIFY AND ITUNES
Crimson Day EP has now been published through digital distribution. The record can be found from Spotify and iTunes among others. Physical copies are available next week once we are done with cover operation!
11.12.2013 CRIMSON DAY EP
We have some news! The EP which we have worked with heartfeltly is completed. Mixing and mastering has been proudly done by Jussi Kulomaa and Esa Orjatsalo. The self-titled EP contains the following tracks:
1. Prelude To Oblivion
2. Into Oblivion
3. Blood Of Heroes
4. Path Of Wisdom
5. Struck By A Hammer
6. Forevermore
We have made a lyric video of the song Blood Of Heroes as a sample from the record (see Media section). Cover art made by Vesa Mäenpää can be seen here: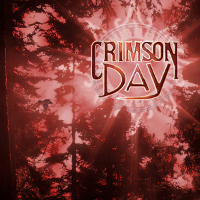 The record can be bought from us by a fair price of 5 euros.
11.12.2013 WEBSITE OPENED
Website of Crimson Day is opened.